Höjdpunkter för utvecklare
Byggd för
mjukvara
ingenjörer
Collaborate on code with all the tools your software team needs for agile development .In one place - GIT, Time-Tracking, Chat, and more...
Stäng uppgifter med commit
Länka en uppgift till ett åtagande eller hänvisa till uppgiftens id från åtagandet.
Klar med landningen! Fixa #OR134, stäng #MRK42
Spåra tiden med meddelande om åtagande
SSO-integration #BKG342 +2h
Eller bara lägga till en referens
Statusskärmar för framsteg #OR552
Se omedelbart nya ändringar och diff.
Spåra nya commits i olika grenar i sidofältet commits. Se diff och ändringar direkt i Ora utan att byta app.
Stöd för Gitlab med egen hosting
Markdown och kodmarkering
Arbeta på det sätt som du är van vid! Dela ut utdrag, diskutera kod och skriv den i Ora så att du kan kommunicera något kodrelaterat på bästa möjliga sätt i en uppgift eller i Ora Chat. Fullständigt stöd för markdown i uppgiftsbeskrivningen och stöd för markdown utan rubriker i kommentarer och chattmeddelanden.
Lista över automatiserade åtgärder
Konfigurera automatiserade liståtgärder för att flytta, tilldela, märka, ändra statusen för uppgiften och mycket mer utan ett enda musklick.
Bättre felrapporter med bild- och videokommentarer
Bild-, PDF- och videokommentarer direkt i uppgiften.
Spela in en video eller din skärm direkt från Ora.
Hur team använder Ora för
Produktutveckling
Börja från en mall, supersnabbt. Eller skapa ditt eget arbetsflöde.
Sprint Management

Plan sprints, groom your backlog, estimate story points, create epics and track your teams progress in real time with sprint burndown and other live widgets

Product launches

Launch new products and updates with ease by keeping all teams on the same page with all tasks and deadlines. Team workload and timeline will help you plan better. Checklist templates will help you copy long list of steps that need to get done before the big launch.

Collect User Feedback

Collect and centralize user feedback so you can make better decisions, iterate faster and keep your entire team up to date with user request trends.

Bug Tracking

File and track bugs so you can prioritize and everyone is knowing who is fixing what and by when. Immediately code review the fixes which show in the tasks thanks to GIT task referencing

Product Roadmaps

Plan your product roadmap. Share it with your engineers or even your users by making it public, so everyone knows the direction you are headed.

Incoming Requests

Streamline and standardize work requests by keeping them in a central place. Easily create tasks from chat message and prioritize requests to help your team build products faster.
Agile suite
Agile
gjort på rätt sätt.
Built-in epics, sprints, story points and reports.
Run sprints, a cycle or iteration of work separate from your backlog.
Estimate effort in story points, track velocity.
Know what type are your tasks, bug, feature or chore.
Break Epics (parent tasks) into subtasks.
Mark tasks as blocked and get notified when no longer blocked.
Track your velocity with a burn-down chart and reports
Learn more about Ora Sprints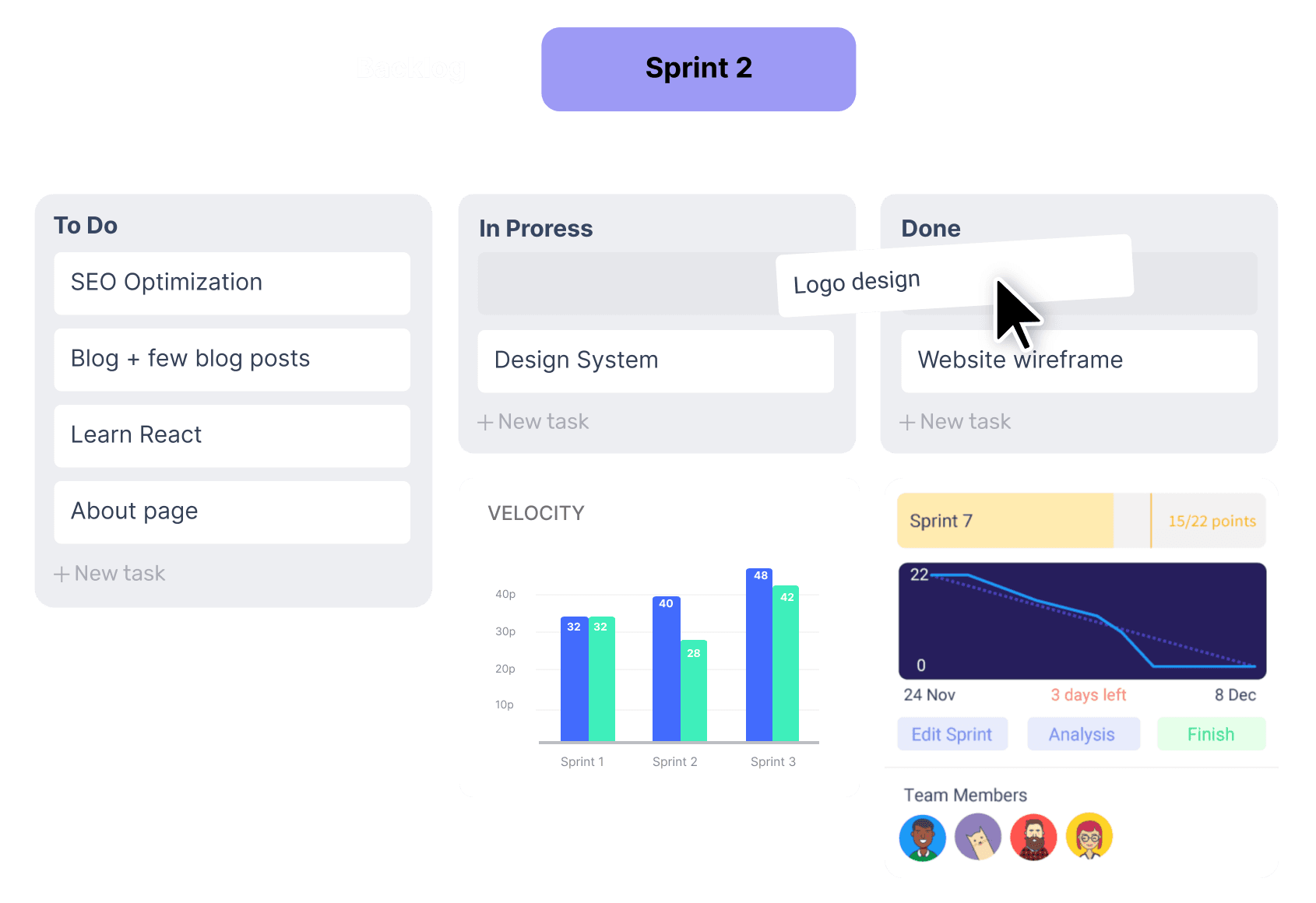 Se allt ditt team arbetar med på ett ställe.