Höjdpunkter för utvecklare
Byggd för
mjukvara
ingenjörer
Collaborate on code with all the tools your software team needs for agile development .In one place - GIT, Time-Tracking, Chat, and more...
Stäng uppgifter med commit
Länka en uppgift till ett åtagande eller hänvisa till uppgiftens id från åtagandet.
Klar med landningen! Fixa #OR134, stäng #MRK42
Spåra tiden med meddelande om åtagande
SSO-integration #BKG342 +2h
Eller bara lägga till en referens
Statusskärmar för framsteg #OR552
Se omedelbart nya ändringar och diff.
Spåra nya commits i olika grenar i sidofältet commits. Se diff och ändringar direkt i Ora utan att byta app.
Stöd för Gitlab med egen hosting
Markdown och kodmarkering
Arbeta på det sätt som du är van vid! Dela ut utdrag, diskutera kod och skriv den i Ora så att du kan kommunicera något kodrelaterat på bästa möjliga sätt i en uppgift eller i Ora Chat. Fullständigt stöd för markdown i uppgiftsbeskrivningen och stöd för markdown utan rubriker i kommentarer och chattmeddelanden.
Lista över automatiserade åtgärder
Konfigurera automatiserade liståtgärder för att flytta, tilldela, märka, ändra statusen för uppgiften och mycket mer utan ett enda musklick.
Bättre felrapporter med bild- och videokommentarer
Bild-, PDF- och videokommentarer direkt i uppgiften.
Spela in en video eller din skärm direkt från Ora.
Hur team använder Ora för
Produktutveckling
Börja från en mall, supersnabbt. Eller skapa ditt eget arbetsflöde.
Zarządzanie Sprintem

Planuj sprinty, pielęgnuj swój backlog, szacuj punkty historii, twórz epopeje i śledź postępy swoich zespołów w czasie rzeczywistym dzięki Sprint Burndown i innym widżetom na żywo.

Premiery produktów

Wprowadzanie nowych produktów i aktualizacji z łatwością poprzez utrzymywanie wszystkich zespołów na tej samej stronie z wszystkimi zadaniami i terminami. Obciążenie pracą zespołu i linia czasu pomogą Ci lepiej zaplanować. Szablony list kontrolnych pomogą Ci skopiować długą listę kroków, które trzeba wykonać przed wielkim startem.

Zbierz informacje zwrotne od użytkowników

Zbieraj i centralizuj opinie użytkowników, dzięki czemu będziesz mógł podejmować lepsze decyzje, szybciej wprowadzać zmiany i utrzymywać cały zespół na bieżąco z trendami dotyczącymi żądań użytkowników.

Śledzenie błędów

Rejestruj i śledź błędy, dzięki czemu możesz nadać im priorytety i każdy wie, kto co naprawia i kiedy. Natychmiastowy code review poprawek, które pojawiają się w zadaniach dzięki odwołaniu do zadań GIT

Mapy drogowe produktów

Zaplanuj swoją mapę drogową produktu. Podziel się nią z inżynierami, a nawet z użytkownikami, upubliczniając ją, aby każdy wiedział, w jakim kierunku zmierzasz.

Wnioski przychodzące

Usprawnij i ustandaryzuj żądania pracy, przechowując je w centralnym miejscu. Łatwe tworzenie zadań z wiadomości czatu i nadawanie priorytetów żądaniom, aby pomóc zespołowi w szybszym tworzeniu produktów.
Agile suite
Agile
gjort på rätt sätt.
Built-in epics, sprints, story points and reports.
Run sprints, a cycle or iteration of work separate from your backlog.
Estimate effort in story points, track velocity.
Know what type are your tasks, bug, feature or chore.
Break Epics (parent tasks) into subtasks.
Mark tasks as blocked and get notified when no longer blocked.
Track your velocity with a burn-down chart and reports
Learn more about Ora Sprints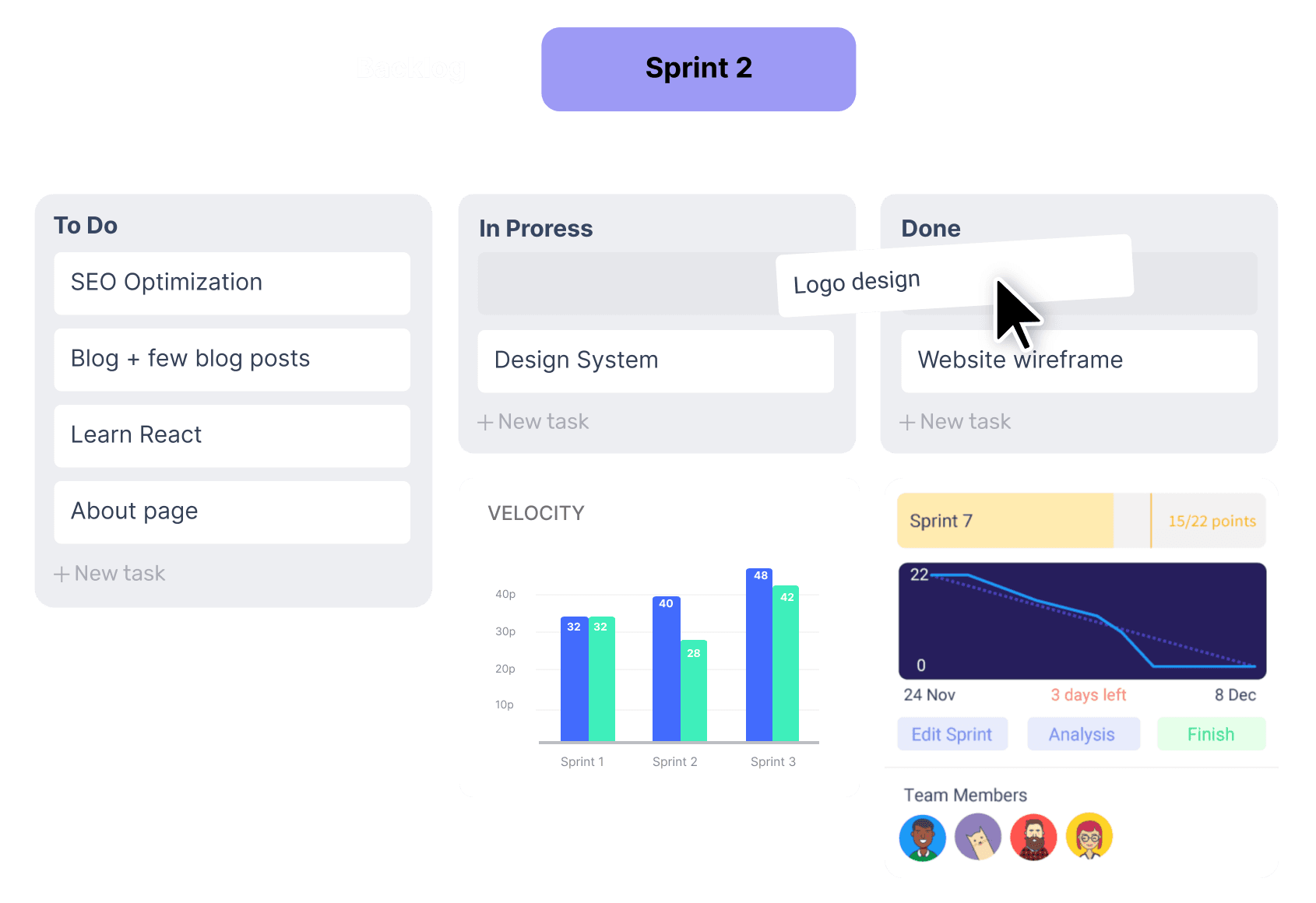 Se allt ditt team arbetar med på ett ställe.