Hoogtepunten voor ontwikkelaars
Gebouwd voor
software
ingenieurs
Collaborate on code with all the tools your software team needs for agile development .In one place - GIT, Time-Tracking, Chat, and more...
Taken sluiten met vastleggen
Koppel een taak aan een commit of verwijs naar de taak-id van commit mesasge
Klaar met landen! Fix #OR134, Close #MRK42
Tijd bijhouden met vastleggingsbericht
SSO Integratie #BKG342 +2h
Of voeg gewoon een verwijzing toe
Statusschermen voortgang #OR552
Zie onmiddellijk nieuwe commits en diff
Volg nieuwe commits op verschillende branches in de zijbalk commits. Bekijk de diff en wijzigingen direct in Ora zonder ooit van app te wisselen.
Zelf gehoste Gitlab ondersteuning
Markdown en code markeren
Werk zoals je gewend bent! Deel snippets, bespreek code en schrijf het in Ora, zodat je iets dat met code te maken heeft op de best mogelijke manier kunt communiceren binnen een taak of in Ora Chat. Volledige markdown ondersteuning in taakbeschrijving en markdown gestripte koppen ondersteuning in opmerkingen en chatberichten.
Lijst actie automatiseringen
Lijstactie-automatiseringen instellen voor verplaatsen, toewijzen, labelen, de status van de taak wijzigen, en meer, zonder één muisklik.
Betere bugrapporten met beeld- en video-annotaties
Afbeeldingen, PDF en video's becommentariëren binnen de taak.
Neem een video of uw scherm direct vanuit Ora op.
Hoe teams Ora gebruiken voor
Productontwikkeling
Start vanuit een sjabloon, supersnel. Of maak je eigen workflow.
Управление спринтами

Планируйте спринты, формируйте бэклог, оценивайте сюжетные точки, создавайте эпопеи и отслеживайте прогресс команды в режиме реального времени с помощью виджетов, отображающих ход спринта, и других живых виджетов.

Запуски продуктов

Запускайте новые продукты и обновления с легкостью, держа все команды на одной странице со всеми задачами и сроками. Загруженность команды и сроки помогут вам лучше спланировать работу. Шаблоны контрольных списков помогут вам скопировать длинный список шагов, которые необходимо выполнить перед большим запуском.

Сбор отзывов пользователей

Собирайте и централизуйте отзывы пользователей, чтобы принимать лучшие решения, быстрее проводить итерации и держать всю команду в курсе тенденций пользовательских запросов.

Отслеживание ошибок

Фиксируйте и отслеживайте ошибки, чтобы вы могли расставить приоритеты, и все знали, кто и когда что исправляет. Немедленное рассмотрение кода исправлений, которые отображаются в задачах благодаря ссылке на задачи GIT

Дорожные карты продуктов

Составьте дорожную карту вашего продукта. Поделитесь им со своими инженерами или даже пользователями, сделав его публичным, чтобы все знали, в каком направлении вы движетесь.

Входящие запросы

Оптимизируйте и стандартизируйте рабочие запросы, храня их в одном месте. Легко создавайте задачи из сообщений чата и определяйте приоритеты запросов, чтобы помочь вашей команде быстрее создавать продукты.
Agile suite
Agile
goed gedaan.
Built-in epics, sprints, story points and reports.
Run sprints, a cycle or iteration of work separate from your backlog.
Estimate effort in story points, track velocity.
Know what type are your tasks, bug, feature or chore.
Break Epics (parent tasks) into subtasks.
Mark tasks as blocked and get notified when no longer blocked.
Track your velocity with a burn-down chart and reports
Learn more about Ora Sprints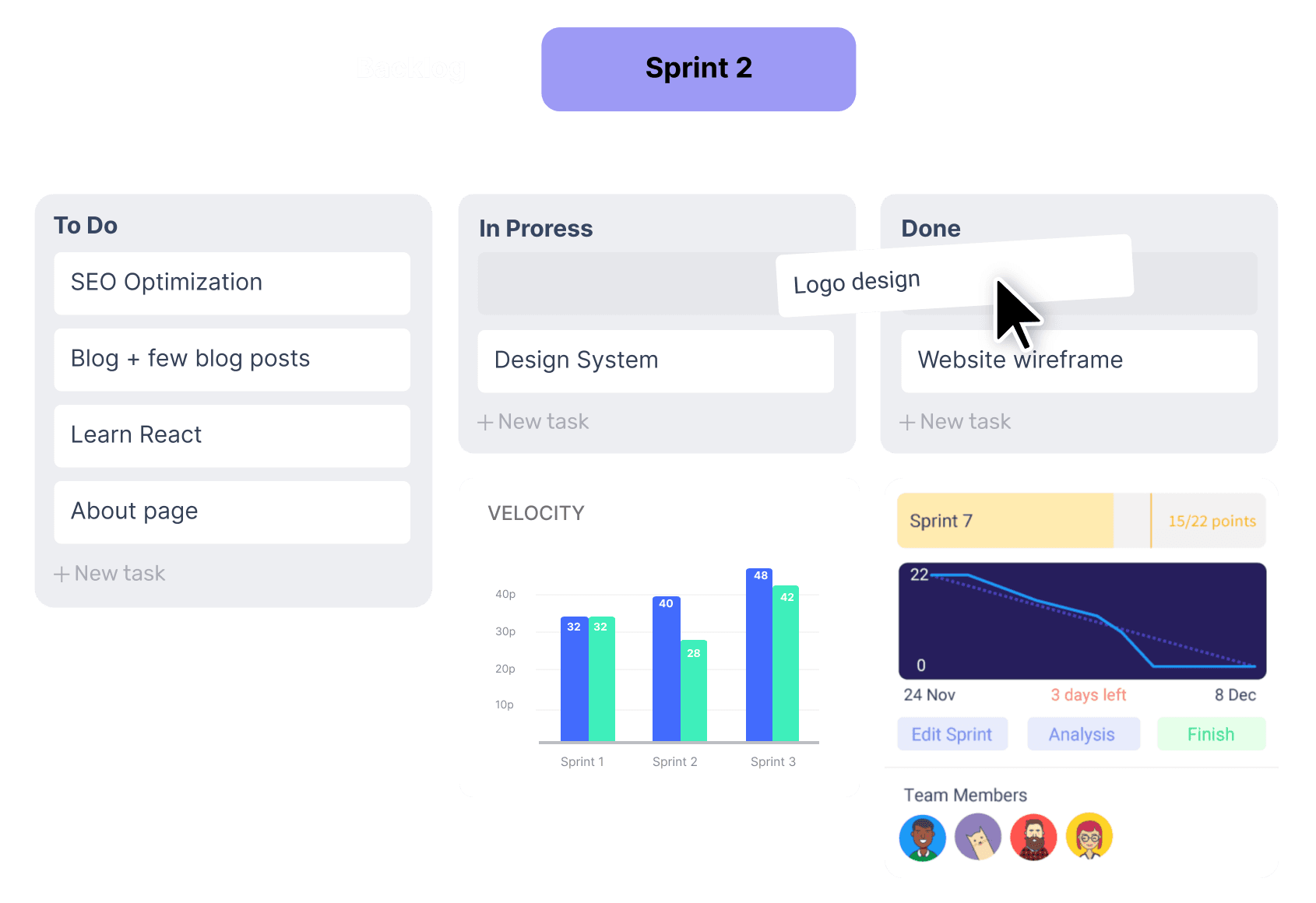 Bekijk alles waar uw team aan werkt op één plek.